A small living room can pose several challenges. A room that should be designed for you to stretch your legs, relax with your family, and even entertain guests can feel like a cramped quarters with few design opportunities. 
But it just takes a little planning and design strategy to make good use of a small living room. You can visit a furniture store in Atlanta to find everything you need to upgrade from a stuffy, uncomfortable living space to a cozy room for entertaining and relaxation. With these 5 hacks, you can shop smart and lay out your design with ease.
Use Bright Color
Light colors, including white, yellow, and tan have a unique effect on the eye. These colors recede, while dark and bold colors proceed. Light-colored wall paint, furniture, and decor will make a room appear larger. You can implement dark colors like black or navy for contrast, but use them sparingly.
Use Light
Light makes a room expand. Part of the reason that low lighting gives fine restaurants a romantic vibe is the small amount of light makes the room seem to shrink, as if you're alone with the person right across from you. Bright overhead lighting, floor lamps, and a single table lamp have the opposite effect, expanding the apparent scale of a room.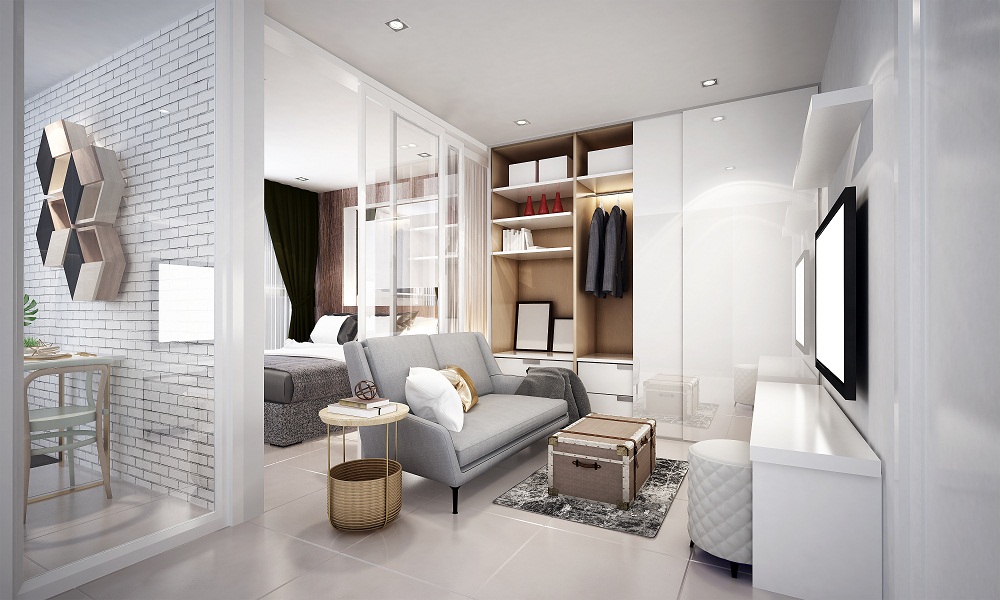 Go Minimal
Minimalist furniture and decor are perfectly suited to small rooms. The clean lines, thin arms and backs, lean table legs, and a lack of busy ornamentation result in compact furniture that's practical while also looking smart and sophisticated. Start shopping at home furniture stores with a transitional mix of sleek, minimal products with old-fashioned, traditional decor for balance.
Go Vertical
Wall-mounted TVs, cabinets, and art don't just save you precious floor space in a small living room, they draw the eye upward and make the room appear far larger than it really is. Blank walls look smaller than decorated ones.
Be Strategic
Large bedroom furniture, like your bed and dresser, tend to be placed opposite the entryway for a reason. Objects that occupy the most space are at risk of interrupting good foot traffic flow, so they should be placed strategically. The same rules apply in living rooms. Place larger furniture distant from the entry to the room and smaller furniture near the front. Finally, only place furniture in the room that you absolutely need.
Bear these 5 space-saving hacks in mind next time you visit a furniture store in Atlanta. You'll find everything you need to make your living room look stylish and comfortable, without crowding the room or creating a cluttered look.