The bedroom is your private escape from the world, the spot where you begin and end every single day. It's a place of calm, a soft destination that's truly your own. And it should be the piece in which you show the most personal style. From beautiful bed frames to plush pillows, there are so many ways to make your bed uniquely yours.
People are likely to invest the most money into designing their kitchens, upgrading their TVs, or buying large sofas, but when it comes to your interior design budget, you should actually prioritize your bed. Find a local furniture store in Atlanta to start shopping for top bed styles, like these.
Nautical
Beachy and as calming as a see breeze, nautical beds feature bright and bold blues, crisp whites, and natural materials like cotton bedding and a faux-reclaimed or painted wooden frame. Real wood arranged like parallel planks, similar to the cladding of a boat, looks especially nautical.
Scandinavian
Styled from the region that perfected minimalism, the Scandinavian bed should be simple and straightforward. If you love simplicity and think of your ideal bed as a break from excess stimuli in the outside world, choose a neutral toned bed with a clean, upholstered headboard and footboard. Tapered wooden legs look straight from the northern reaches of Scandinavia.
Midcentury Modern
Retro is back in, especially when it comes to bedroom sets. Home furniture stores are full of midcentury modern pieces, which are notable for their tufted headboards, slanted legs, vibrant earth tones, and geometric patterns that are high-personality.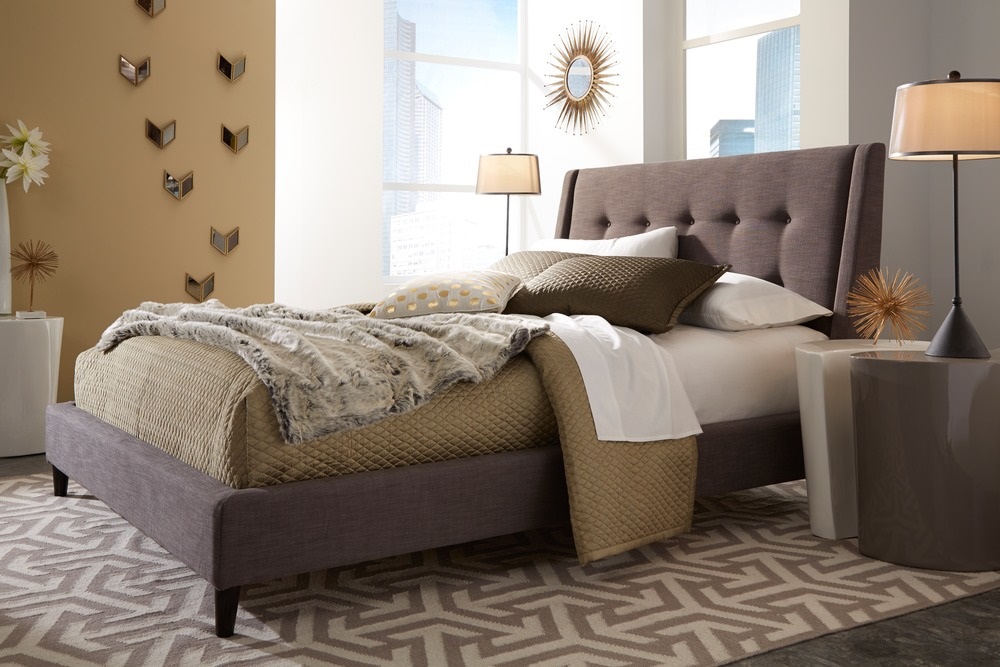 Glam
If you prefer to lounge like a Hollywood star, shop through Atlanta for furniture with a touch of glam. Mirrored or metallic sets with overstated fabrics and feminine off-whites are just glamorous enough to feel stylish without disturbing your rest.
Bohemian
Celebrating the patterns and styles of diverse worldwide cultures, Bohemian or Boho chic beds consist of natural materials like distressed wood and burlap. Bright colors, bold patterns, and ample fabrics are important for creating this unique effect that screams comfort and youth. If you want to bring some zen into this already relaxed atmosphere, consider buying a low, platform bed.
French Country
The best home furnishings in Atlanta look as comfortable as they feel, especially when it comes to bedroom sets. This provincial, traditionally European style is homey, with honey-toned upholstery and high-sheen wooden surfaces. Floral detailing, silky fabrics, quilted throws, and an overall sense of the antique is crucial to this famous style scheme.
For these and other bedroom styles that you'll just want to leap into, visit a fine furniture store in Atlanta.